By: Andrea Jackson-Gannon
It's that time of year and once again I am consumed with nostalgia. In fact from January to December to February to August it's a roller coaster of emotions as we go from Independence to Easter to Jazz Fest to Calypso and Soca to Carnival to my all time favorite – the feast of La Rose, La Woz—the celebration of roses. Indeed a slew of exciting yearlong activities highlighting and celebrating our way of life, our heritage.
So here we are once again, today on this wonderful feast day August 30th and although my physical being is in Florida my spirit and heart is in my homeland St.Lucia. Yup, the rose occupies a special place in my heart and La Woz is engrained in every fibre of my being.
As a little girl, my mom introduced me to the society of La Rose and even though I've left St.Lucia, the memories have never left me.
I grew up in Castries, up on the hills of Bagatelle road and attended the Marchand primary school. My extracurricular activities included karate lessons, folk and African dance classes. Although I enjoyed them all, it is the folk dances that took up a special place in my heart. Today, I can't help but reminisce on those days leading up to the La Rose festival — from rehearsals to the Grand fete to the costumes to the foods to eat.
For several nights my dance team and I rehearsed our dance routine in preparation for the Grand Fete. An affair where schools from across the island converged upon the Castries downtown park to partake in the celebrations and showcase their routines.
The big day is here! Adorning our colorful and eclectic costumes, we are ready to take on the festivities. So, to the sounds of banjo and baha, drums, guitar and the projecting voice of the chantwel, we paraded through the streets making our way to the park where scores of spectators waited to be entertained by us. From dignitaries—La Rose king, queen, princes and princesses, civil servants—police officers and nurses and the students and teachers from the various across the island. The faces of little boys and girls dressed neatly in their school uniform, with smiles on their faces and gazes of awe and wonderment in their eyes still vivid in my head.
As I write I can taste the icicles and ice lollies, tamarind juice and golden apple and gooseberry jam, bakes and saltfish, green fig and saltfish, fried chicken, dumplings and callaloo that were always on the list of foods to eat.
It's been a few years now since I've moved away but the feast of La Rose has certainly remained one of my favorite memories as a young girl growing up in St.Lucia. The memories of participating in the preservation of our heritage and culture, year after year will always remain dear to my heart.
Ah! The feast of La Rose! Sweet and happy memories.
About the author: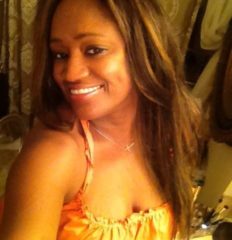 Born on the island of St. Lucia, Andrea Jackson Gannon is an Author, Blogger and Owner of Fifth Avenue Event Services, where she utilizes her other love for intimate events.. Her passion for writing started at a very young age. Her primary focus is to empower people the across the globe to live life with a purpose, and passionately and to pursue their dreams using their God given gift . She recently completed her first book, "Bondage Unleashed", which tells her life's story of living on the island of St. Lucia, and how to overcome adversity. She currently resides in Florida, is blessed with one son and a loving husband, fulfilling her life's purpose.
Connect with Andrea: andrea@fifthavenueservices.com or www.fifthavenueservices.com